Upcoming Events at the Lake Clear Lodge & Retreat
Bucklist items, family fun, and rainy day events!
Jan 18, 2019 - Jan 20, 2019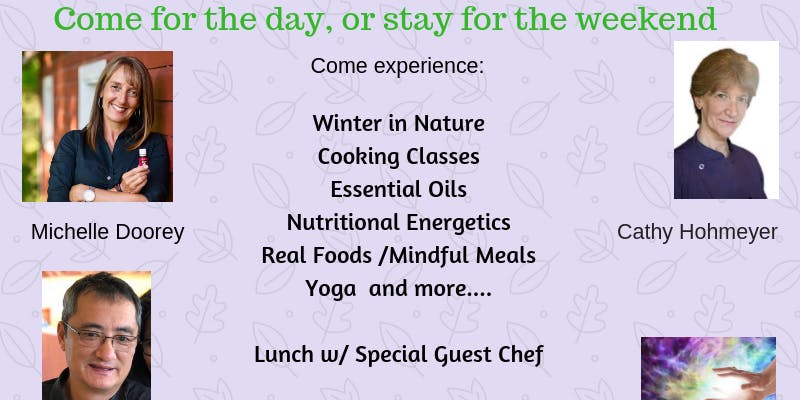 Convergence of Wellness - 2019 Kick Off!
We are excited to have you be apart of the first monthly Convergence of Wellness for 2019.
We are offering a fun and informative weekend of yoga, essential oils, nutritional energetics , cooking classes, and a special guest Chef! (details below, subject to change)
Friday, January 18th, 2019
3-5 PM Lodging arrival for stay overs
4PM x-country ski, read by the fire, browse booths and info, enjoy your loding
5:30 Optional : History of Organic Beer call to book separately (518)891-1489
6PM Speakeasy meet and greet and pub dinner*, intro to Adk food history. Early bird pricing on cooking classes and nutritional energetics programs.
Saturday, January 19th, 2019
9:00 Breakfast* and workshop with Chef Cathy
10:30 Essential Oil workshop with Michelle
12:00 Lunch* : Cooking with Essential Oils Workshop Chef Cathy
1PM Check into Lodging for Saturday over-nights
2 PM Intro to Nutritional Energetics with Cathy
3PM Yoga as a Mindful Practice - beginners or experienced
5:30 Optional : History of Organic Beer - call to book separately (518) 891-1489
4-6 PM Optional : Lantern Lit Sleigh rides - call to book separately (518) 891-1489
6PM Speakeasy Fun - Dinner : Mindful eating in the 20's
7:15 PM After dinner fireside chat with s"mores and gluten free desserts
Sunday, January 20, 2019
9:00 Aroma Yoga with Michelle followed by continental breakfast
11:30 -12:45 Lunch* with Special Guest Chef Tenzin Dorgee
1-1:30PM Akashic Academy Show, international broadcast with Cathy with special guest Klara Fischerova, intro to Family Constellation energetics
BOOK NOW
Event Info
5:30 PM January 18, 2019 - 2:00 PM January 20, 2019
Lake Clear Lodge & Retreat
6319 State Route 30, Lake Clear, NY
Sign Up Required: +1(518)-891-1489
MORE INFO & BOOK NOW